The foundation of any reliable communication platform lies in its basic call features. Qridd's WebRTC client offers a robust set of functionalities that enable users to manage their calls with ease and efficiency. From making calls to managing transfers and holds, Qridd's WebRTC client provides the essential tools for a seamless communication experience.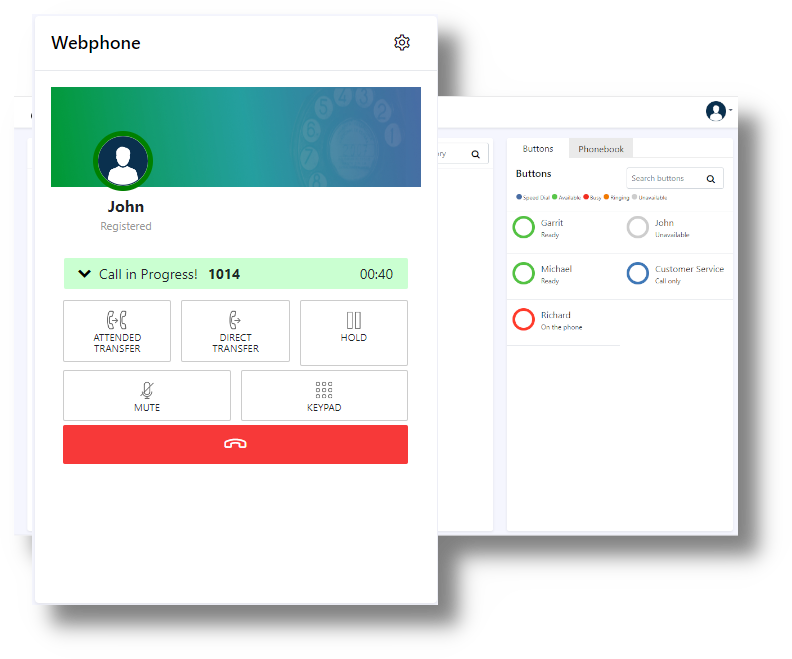 Basic Call Features in Qridd's WebRTC Client:
Calling: Qridd's WebRTC client allows users to initiate calls with a simple click or by entering the desired phone number. The intuitive interface makes it easy to connect with your contacts quickly and efficiently.
Whether you need to connect a caller to another department or forward a call to a colleague, Qridd's WebRTC client offers seamless call transferring, including both attended and unattended transfers. With just a few clicks, you can transfer calls to the appropriate party without any hassle, ensuring a smooth and professional calling experience.

Attended Transfer:

An attended transfer allows you to speak with the intended recipient before transferring the call. This feature is useful when you want to ensure the recipient is available and prepared to take the call. Qridd's WebRTC client makes it easy to initiate an attended transfer and confirm the recipient's availability before completing the transfer.


Unattended Transfer:

For situations when you don't need to speak with the recipient before transferring a call, Qridd's WebRTC client offers the unattended transfer option. This feature allows you to transfer a call directly to the desired extension or phone number without any prior communication with the recipient. Unattended transfers are perfect for quickly rerouting calls to the appropriate party or department

Call Holding: Need to put a caller on hold momentarily? Qridd's WebRTC client has you covered. With the hold feature, you can easily place a call on hold and retrieve it when you're ready to resume the conversation.
Mute Functionality: During a call, you may need to mute your microphone to eliminate background noise or have a private conversation. Qridd's WebRTC client offers a straightforward mute function that enables you to silence your microphone with just one click.
Dialer Pad: Qridd's WebRTC client features a built-in dialer pad, making it easy to enter phone numbers, navigate IVR menus, or input access codes during conference calls.
Redialing: Missed a call or need to reconnect with a contact quickly? The redial feature in Qridd's WebRTC client allows you to effortlessly call back the last dialed number, saving you time and effort.
Call Rejecting: Not every call may be appropriate to answer at the moment. With Qridd's WebRTC client, you can easily reject incoming calls, sending them to voicemail or a pre-configured destination.